How to convert SWF to MPEG (Flash SWF to DVD/VCD/SVCD)?
2009-10-05 23:48:45
What is DVD?
DVD stands for Digital Versatile Disc. It is very often used as a replacement acronym for DVD-Video, which is one standard based on DVD format. Generally, DVD incorporates the divisions of DVD-Video and DVD-Audio. DVD-Video is a standard developed by the DVD Forum, an authority behind various DVD standards, and specifies how video should be stored on optical DVD disc. DVD-Video specifications allow for two different kinds of video encoding algorithms: MPEG-2 and MPEG-1. Almost all DVD-Video discs use MPEG-2 format, mostly because of its superiority over MPEG-1 in terms of video quality. DVD-Audio is music disc, aimed to replace regular audio CD within next few years.
What is VCD?
Video CD uses MPEG-1 for video compression and .DAT as the file extension.
What is SVCD?
SVCD or Super Video Compact Disk is in accord to the MPEG-2/MPEG-1 compression. Its resolution under NTSC norm can arrive 480*4804, and under the PAL norm it can reach 480*560, while a common VCD resolution reaches only 352*240 and 352*288. At the respect of the audio, it also adopts the MPEG-2 Layer II compression calculation. Thus the SVCD compatible video files must be MPEG2. When you are surfing the internet and encountering many interesting flash (SWF) files from time to time, you may desire to view them on your DVD Player, VCD, and SVCD and even want to upload them to some video sharing site like YouTube, Google Video. But the headache thing is that these players and many video sharing site do not compatible with SWF format. Then SWF to MPEG Converter will relieve your headaches.
SWF to MPEG Converter is a handy utility that can perfectly convert Flash SWF to MPEG (VOB & MPG) video files compatible with DVD, VCD & SVCD for playback on your DVD player. Besides, this MPEG Converter is developed to rip SWF to MP3,AAC, WMA, WAV audio files for CD and support batch mode conversion. Its manual mode allows capturing interactive Flash for conversion.
Step by step guide: Download and install SWF to MPEG Converter
Step 1. Import SWF files into program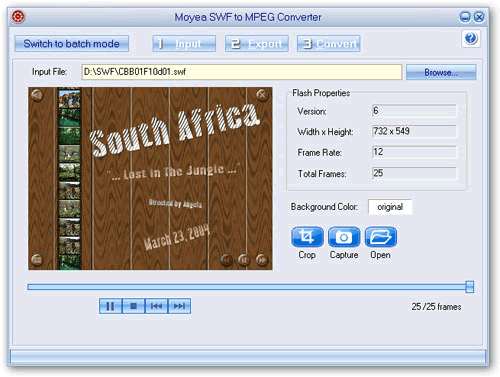 Step 2. Set the output video and audio parameters for output video file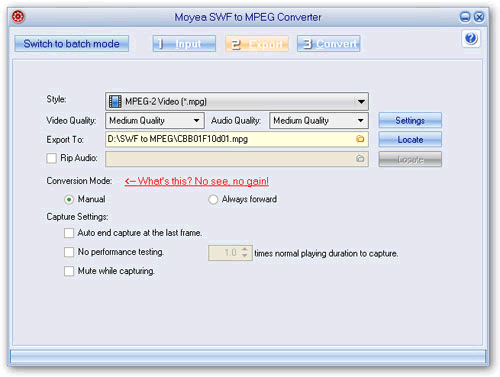 Step 3. Convert to encode the end mpeg video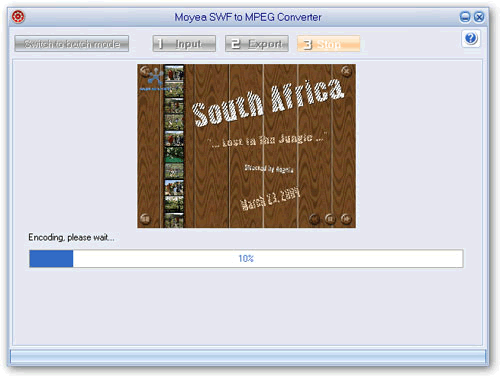 1. How to Convert SWF to DVD, SWF to VCD and SWF to SVCD? If you want to enjoy the SWF file on your DVD, VCD and SVCD at home, the must thing is to convert SWF to DVD, SWF to VCD and SWF to SVCD compatible file format MPEG, VOB or MPEG 2. But you should to download the SWF to MPEG Converter first! (1) Choose DVD as the output format if you want to play the output file on you DVD or VCD, there is two standard available: 4:3 and 16:9. Choose either you like. But if the intention is SVCD, please choose MPEG2 as the output format. (2) Complete any settings you like. After that click convert to capture the contents you like for conversion. (3) Please keep your mind that the output MPEG or VOB file can not be played directly on your DVD/VCD! DVD file need more control info, so you should use some DVD Maker or Burner as Nero to record it to DVD disc. Then it can be played.
Hot
2009-08-08 21:04:25,61664 read

2010-04-11 04:19:18,48165 read

2011-07-20 20:25:49,46192 read

2011-06-12 02:05:37,28247 read

2009-11-12 02:37:14,26131 read

2009-11-28 02:02:08,17145 read

2010-04-10 23:05:37,17063 read

2011-10-26 20:27:20,15561 read

2011-03-08 21:11:24,13589 read

2009-10-12 08:24:35,12681 read